The following post was written by Reduxio CEO Ori Bendori during his tenure as Partner at Viola Ventures (2004-2018).
China (officially the People's Republic of China) is the world's most populous country, with a population of over 1.35 billion. Israel, by comparison, has just 8.1 million, 0.6% of China's population (so if China was a cake, you could say that Israel wouldn't even be one bite out of it, it'd be more like a crumb). China is also the second largest economy in the world with the highest growth rate among the large economies. In fact, it's estimated that China will overtake the United States to become the world's largest economy by the mid to late 2020s.
For at least the last couple of decades, most of the investment in Israeli startups has come from US companies, and to a smaller extent from Europe, but growing interest in the local tech scene by Asian investors – China in particular – has given rise to a new trend that looks set to strengthen substantially in coming years.
In 2014, 12 Israeli venture capital funds raised $914 million between them, representing a six-year high, according to the Israel Venture Capital (IVC) research center and KPMG. A third of the capital raised came from Asian investors, compared with just 5% a decade ago. And as Winnie Liu points out in a recent article for the the Asian Venture Capital Journal (AVCJ), Viola Ventures' fourth fund was the largest vehicle for the Asian generated capital in 2014, attracting $194 million, with a substantial portion of that coming from Chinese investors – namely Baidu, Qihoo360 and Ping An Insurance.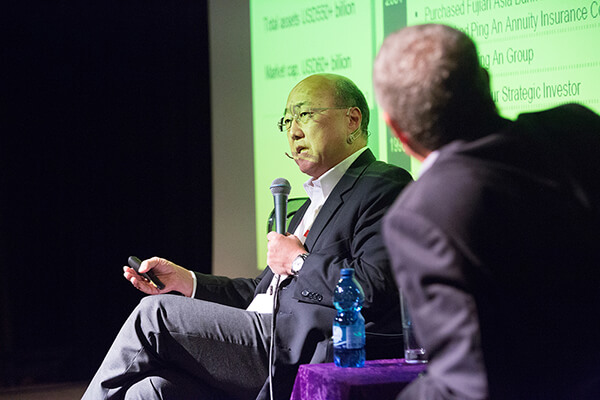 Daniel Tu, Group Chief Innovation Officer, Ping An Insurance, speaking at
one of Viola Group's Annual Meeting events in November 2014.
Despite its tiny population, Israel is the #2 startup ecosystem and innovation hub in the world after Silicon Valley. In 2014 alone Israeli M&A and IPO exits were valued at $15 billion (an all-time record) and this impressive result has generated much interest from global investors, including China, because what Israel lacks in size and manufacturing power (something that China is renowned for), it makes up for in the number of startups per capita and technology development and innovation. It's these technologies that China is interested to acquire in order to establish themselves as global leaders in this area as well.
As I said in my interview for the AVCJ, China is growing to be one of the most important markets for our portfolio so our aim at Viola Ventures is to serve as a local partner for Chinese companies and to introduce them to our local start-ups. At present, most Chinese investors in Israeli startups are strategic players, but few are of institutional scale and quality. It is hoped they can get a sense of what is on offer by participating in VC funds and once they are more familiar with local markets, engage in co-investments with GPs or pursue direct deals independently.
So what has led to China's growing interest in Israel? Here are some of the reasons:
China does not want to be only the "the cheapest place to manufacture" anymore. Chinese workers are now enjoying some social benefits and growing salaries (especially in the High Tech industry) resulting in some of the 'lowest cost' industries moving outside of China to other countries.
China is looking for added value business, like internet and software. This is where Israeli innovation is important.
The Chinese lack a history of technology innovation (although they are great entrepreneurs!) and are therefore looking to get it from countries like Israel.
Some Chinese companies have set their eyes on global expansion, and collaboration with Israeli companies can help with this as well.
Israel does not have the sensitive relations that the Chinese have with the US. In recent years, for example, China's De-IOE Movement has been gaining strength (IOE being an acronym for IBM, Oracle and EMC, three companies that have dominated IT services for Chinese financial firms) which strives to replace products from these companies with local or non-US companies. The same is true of the US internet giants like Google and Facebook, who are out of the market.
Some of the regulations and transparency issues are much better. While it's still important to be careful with the IP, more and more Chinese companies understand the importance of respecting IP belonging to other companies, particularly young companies. Since many of these companies are now traded in Western stock markets, China must play by western rules, and have adapted accordingly (similar to Korea).
Cultural differences between Chinese and Israelis are less of an issue and they are comfortable with each other! The Chinese respect the Jewish people, and they accept the Israeli bluntness as good business aggressiveness (and not just rudeness).
Viola Ventures sees China as a prime market:
China is becoming a major target market for Viola's portfolio companies. Some of them are already doing amazing business and seeing substantial growth.
The Chinese are no longer interested only in Communication and Semiconductors, they are becoming increasingly interested in Internet and Software. As stated above, the Chinese are interested in attaining new technologies and global access, both of which are available from Israeli companies.
Chinese investors are interested in Israeli technology companies, some for the financial results, and some for the technology potential for their market. Recently, for example, there have been multiple direct investments in our companies by Viola Ventures' Chinese Limited Partners and by other Chinese investors.
Into the future
China is changing. Digital Media, Enterprise software, Cloud infrastructure, IoT and many other exciting areas are becoming relevant for the Chinese market. China is no longer a mere follower, in many cases they are in the forefront of technology and are early adaptors.
China's interest in Israeli technology companies presents a great opportunity. Often the local market is not substantial enough for Israeli companies so they ship their products and solutions in the US, and should seriously consider prioritizing China as a second target market, sometimes ahead of Europe and other places.
Internet and FinTech business opportunities are already booming in China. The Enterprise software business in China is a new and emerging opportunity for Enterprise software companies, especially SaaS.
More direct investments are expected, including in early stage companies. Many of China's large companies are interested in investment in Israeli technology companies. They are doing this through their connection with Viola Ventures (and other VCs) or by developing their own access via frequent visits or opening local offices.
Chinese companies have already made some significant 'non-tech' acquisitions in Israel (e.g. The Clal Group, Tnuva, Alma Lasers, and others) and while they have yet to make significant technology acquisitions in Israel, I believe that they will. There is a strong interest both in business cooperation in general and in acquiring Israeli technology companies, which is likely to happen on a large scale in the future as the relationship between the two countries continues to strengthen and become more important for both sides.
Viola Ventures sees this as a strategic and long term initiative to maintain close relations with the Chinese market – not just as investors in the fund but more importantly as an added value for our portfolio companies. Our relationship with our LP – some of whom are the largest companies in China (and Japan) – is getting closer and we leverage this relationship to connect our portfolio companies with these giants both for business and investment. We also visit China on a regular basis in order to enhance these relationships and create new ones.
I know that I for one, am excited by the possibilities of cooperation between China and Israel and am looking forward to working towards great outcomes that are mutually satisfying.