Recruitment has long been a major pain point for companies trying to scale. Employers have to shell out thousands of dollars in advertising fees, sift through hundreds of CVs, and spend hours of human capital, in order to find qualified candidates.
The process is so challenging that one of our portfolio companies has calculated it needs to sift through more than 16,000 CVs just to reach 100 hires. That means that only around 0.5% of applications resulted in a hire. [For a full size image of the recruiting funnel, click here.]
Using Big Data to Optimize Recruitment
To optimize the lengthy process of talent acquisition, Human Resources departments have been migrating towards a data-driven approach called people analytics. Two companies that have been at the forefront of the movement are Redis Labs and SimilarWeb.
"What we're doing at Redis Labs is absolutely part of the people analytics trend. We've set goals for time to hire, apply to hire, and many more metrics," says Adi Stern, VP Human Resources at Redis Labs, an open source database company. "We're always reviewing ourselves internally to make sure we're meeting our pre-defined targets, and we're tweaking the recruiting process when we see it's needed."
And the focus on data is definitely giving an edge to Redis Labs, which operates in the ultra-competitive San Francisco, Tel Aviv, and London workforce markets. Here are a couple of examples.
Assignment vs. Interview
The Redis Labs recruiting team recently noticed that for one role they were trying to hire for – a Junior QA engineer – the process was moving slower than expected. A deep dive into the recruiting process found that candidates dropped out when they were asked to do a take-home task after their phone interview but prior to their first on-premises meeting. Candidates weren't completing the task because other companies they applied to were willing to skip this step.
Redis Labs changed its tack – the HR department started inviting candidates in for short on-site interviews, and only after that, once a candidate had a chance to be impressed by what they saw visiting the office and what they heard from Redis Labs employees, were they asked to complete the assignment. The change resulted in 2 immediate hires.
Phone Interview
In another case, Redis Labs' recruiting team noticed that for the Solution Architects role, the ratio between on-site interviews and actual hires was too high, meaning that the hiring team had been investing a lot of time on on-site interviews that yielded a relatively low volume of hires. After analyzing the data, they advised the hiring managers to conduct a deeper phone interview qualification before inviting the candidate for an on-site interview.
The change resulted in a significant decrease in the ratio between on-site interviews and hired candidates (between 2.25 to 7.33 interviews for 1 hire, compared to more than a dozen beforehand.)
"Because of this data-driven approach to recruiting, we were able to recognize these inefficiencies and fix them promptly, saving ourselves and our managers time and resources, and ultimately saving money for the company," says Adi.
Every Function is a Funnel
SimilarWeb is another company that puts a heavy emphasis on big data. The digital market intelligence company offers industry insights on over 80 million websites, employing more than 400 people around the world.
SimilarWeb's data-driven philosophy is borne out by how it views its HR funnel like any other funnel in its business. Here is SimilarWeb's go-to market funnel:
That's all pretty standard in sales. But SimilarWeb treats its HR department in the exact same way. Here's their HR funnel:
These funnels were created by Jason Schwartz, CFO of SimilarWeb, who also came up with the key ratios the company uses to analyze each step in the pipeline, including:
The NEAC Ratio – measures how much SimilarWeb is investing to hire a new employee as a percentage of compensation.
The ELT Ratio – measures the average lifetime/tenure of their employees.
"Managing hiring is like managing sales," says Sigal Gill More, Chief People Officer at SimilarWeb. "You need the right pipeline, you need efficiency in the process. You really need to have the cadence of a sales process – it's a highly measurable business. So I very much believe in that funnel-style measuring."
Data-Driven Approach
Sigal, like her counterpart at Redis Labs, has concrete evidence that her data-driven approach leads to savings. One midsummer Wednesday morning, during one of her department's weekly-scheduled staffing 'war room' meetings (which mimic sales war room meetings), the HR team noticed a blip in the hiring processes for the Sales department. They were screening out 80% of CVs, in line with their benchmarks. They were then disqualifying another 30% in the phone interviews, also in line with their internal standards. But when it came to the on-site presentation, the hiring managers assessing the tasks were eliminating 89% of the remaining candidates, much higher than the number they were aiming for".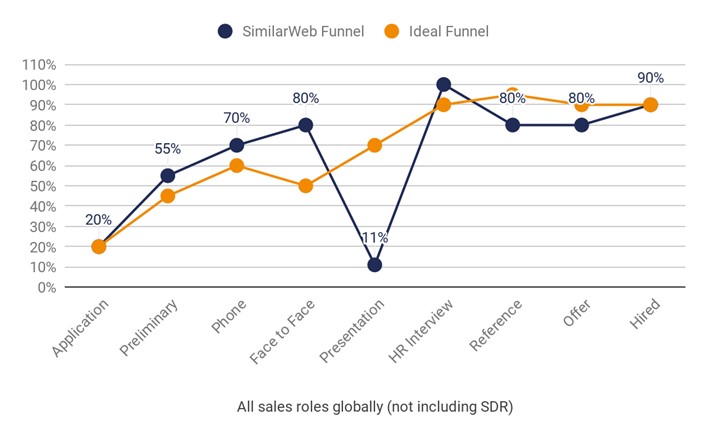 "The hiring managers were actually proud of themselves – they thought they were helping us screen the candidates and provide quality assurance. But something in the process was going wrong."
Sigal and her HR team used the data to optimize the presentation stage, as well as the previous stages in the process. They also tightened up the CV screening and the phone interviews. Their ultimate goal was to save time and resources for themselves, but also for candidates who invest significantly in these presentations, often while working full-time jobs, ultimately to be rejected.
Special Tips to Optimize Recruiting
We asked Sigal and Adi what they would recommend to other companies looking to step up their recruitment game. Here are their valuable tips:
1. Build your own hiring muscles
Both companies put a lot of effort into fostering their departments' ability to find new talent independently, without the help of 3rd-party recruitment companies. "Build your own muscles for hiring," says Sigal. "At SimilarWeb we pride ourselves in hiring almost 90% of our people directly – we exercise our own staffing muscles. A good HR person has the ability to source new talent."
2. Actively source talent online
It is important to be able to find eligible candidates whose background matches the open job description through sites like LinkedIn and GitHub. When doing so, it's far more likely that you'll find candidates who are actually relevant for the position than if you wait for people to send CVs. If you focus heavily on active sourcing, in some cases you won't even need to open the position to the general public. At Redis Labs, the percentage of hires who came from active sourcing increased by almost 8% in the last two quarters, due to a massive investment in active sourcing.
3. Get creative with recruitment
Find what's working for your company and strengthen it. At Redis Labs, for example, more than half of new recruits came via the company's "refer a friend" program – this got them thinking of ways to optimize it. Inspired by the HR department at Dropbox, they implemented a tiered version of the program, that gives added incentive to the referrer based upon their level of familiarity with the candidate and their ability to provide support through the recruiting process by help inspiring the candidate to accept the offer. The more they know the candidate and can help with the recruiting process, the more money they'll get if the candidate is ultimately hired. The tiered program resulted in an increase of almost 10% in the hires made by referrals.
Rapid growth requires companies to continuously optimize their processes in any sector, from finance to marketing, relying heavily on data and combining out-of-the-box solutions to address those insights. With recruiting becoming a larger challenge, there is no reason why this process shouldn't be implemented in the field of HR.
So when optimizing your company with data – a great place to start is your HR department.