We continue our attempt to quantify the impact of the Coronavirus on the Israeli tech ecosystem, and to measure the effectiveness of its response, in part by conducting surveys of C-level professionals of Israeli companies.
RELATED: VIOLA DATA CORONAVIRUS SURVEY, UPDATED MARCH 11
In general, Israeli companies have been agile in their response to the outbreak of the global pandemic; they have implemented new policies regarding hiring employees, work from home plans, and measures to safeguard budgets and targets.
This survey collected responses from a combined 135 CFOs and HR leads. Let's take a closer look at the data:
What market impact are you seeing to date?
Although most companies are still in the process of figuring out how the Coronavirus will impact their business, we are seeing a rising number of companies being impacted at all levels. Most worryingly, the number of companies who are already seeing a major impact on business has risen from just 5% late last week to 33% today.
What is your current Work from Home status for Israeli employees?
Because of the change in guidelines from the Ministry of Health, all Israeli companies now offer some level of work from home. Where last week only 8% of companies had a mandatory policy in place, that number has now reached 21%.
Small companies (1-50 employees) are more likely to promote a voluntary policy (70%) as opposed to large companies (150-500 employees) who are more likely to impose a mandatory policy (45%).
What is your current Work from Home status for US employees?
Although US government guidelines are not yet as extreme as in Israel, companies are actually taking similar measures, with the majority of employees already working from home.
Rate your level of preparedness for your company to work from home for the next 2 weeks.
Despite the fast-changing official government policy, 72% of Israeli tech companies feel prepared for an extended work-from-home period (rated 7 or higher).
How do you make sure people are actually working from home?
59% have already implemented policies that are aimed at ensuring that employees actually work from home. One third of companies are using a "trust system" and are not implementing any special control measure to ensure a structured workflow.
What is your policy for parents who cannot work from home (because of the closure of schools and daycare facilities)?
Although in general Israeli companies have prepared well for the Coronavirus crisis, there is one area in which many of them (64%) are struggling to cope: dealing with parents who unexpectedly have to take care of their children whose schools/kindergartens are closed. As can be clearly seen, this is still an evolving situation with no clear policy. We believe that the end result will be a compromise – full compensation in the first week or two that that will later turn into vacation days at the employees' expense.
Financial/Budgetary Adjustments
Over the past week, have you taken advantage of the rising exchange rate to hedge/buy shekels?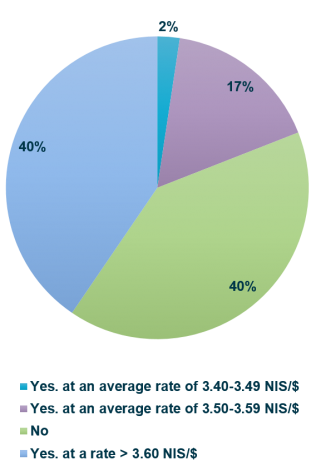 40% of companies have not yet taken advantage of the opportunity to buy shekels. We strongly urge companies to do so as soon as possible, as we believe that this will only become more expensive in the near future. The impact of a high exchange rate (around 3.70) to startup companies alone is estimated at around 200M NIS per month (!!) compared to the budget basis (~3.45 NIS/USD).
What actions have you taken/are planning to take to re-evaluate your marketing budget?
Nearly half of companies have already implement cuts to their marketing budget, and another third are planning on similar cuts in the near future. Only 21% of companies are still holding to their original marketing budget.
What is your policy on signing new vendors/suppliers?
Two thirds of companies have already implemented, or are planning on implementing, a freeze on working with new vendors.
Are you re-evaluating your booking/revenue model?
Two thirds of companies have not yet implemented a new policy with regards to booking/revenue model. We expect this to change over the course of this week.
Impact on Company Headcount
Have you implemented a freeze on hiring new personnel?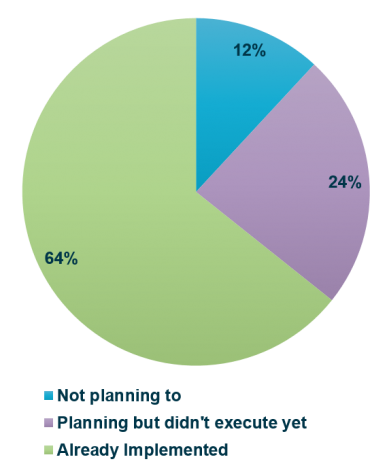 As of our last survey conducted late last week, only 16% of companies had implemented a freeze on hiring; that number has jumped to 64%.
Have you implemented a policy on firing existing employees?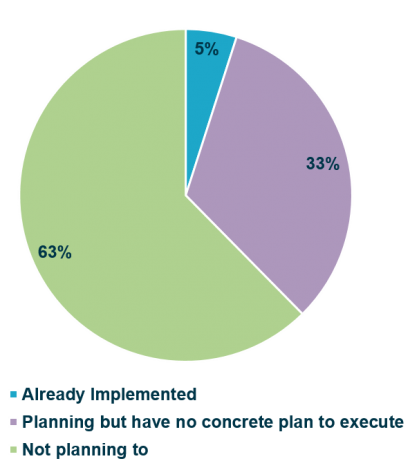 Last week just 1% of companies said they were likely to fire employees, but that number has jumped to 5% today.
Have you implemented a policy to adjust salaries of existing employees?
One fifth of Israeli companies are planning to change the salaries of existing employees.