According to a recent Viola survey we ran among our portfolio company Heads of HR, all of the participating companies agreed that Employer Branding is critical to the recruitment process, but 53% claimed they don't have an employer brand presence.
"Employer Branding is a necessity these days for organizations of every size", says Timor Shabtay, Head of Human Capital at Viola: "It must be incorporated at every stage of the employment lifecycle, because all job candidates (even those who were unsuccessful), current employees and past employees – can potentially be ambassadors and help attract talent to those companies."
Employer branding is a process that must be built and maintained on an ongoing basis. Sometimes it needs to be adapted or reinvented (just as companies themselves sometimes pivot and must undergo rebranding), but the earlier it is established as part of the formation of the company, the easier it is to evolve as the company grows and changes. It's important to note that it is not always possible to quantify the effects of employer branding immediately, because it is often an effort whose effects can take time to manifest. Just as it can take time for a brand to become recognizable and immediately associated with something, the same goes for employer branding.
Generally, the process for creating an employer brand is based on understanding –

What is the company and what is the story behind it?

What are the company's values and vision?

What is important to the company in the people they want to employ?

What is the value the company offers to employees?

What makes the company unique? What is the company's advantage? Why would someone want to work at the company and remain there?
Once a company has defined its employer brand, it can create a yearly plan to market it, including conferences, PR, social media presence, videos, meetups and hackathons, branded gifts and swag, welfare initiatives, and more – all to support the relative advantage of the company over others, and to create a sense of belonging and comradery for workers who will then help to market this advantage outside of the company.
At a meetup we held earlier this month for our portfolio company Heads of HR, we hosted Galit Zucker, Chief People Officer at SodaStream, Michal Nachmany, VP HR at Playbuzz, and Noa Ferber, EMEA Talent Acquisition Manager at Amdocs. They spoke about various aspects of Employer Branding, including the importance of company culture and of creating core company values that workers can identify with and support, the importance of collaboration between the Marketing and Human Resources departments, connecting employees through social networks and of creating and nurturing a sense of pride in their company.

HIGHLIGHTS FROM GALIT ZUCKER'S LECTURE
(CHIEF PEOPLE OFFICER @ SODASTREAM):

SodaStream are obsessed with nurturing their company culture and celebrating their values, which they see as their employer brand's "secret sauce".
Personality and the "DNA" of team members (in terms of cultural fit) is more important than professional experience, and this is taken into consideration in the hiring process
Everyone in the company from the workers to the CEO supports the philosophy of "business courage". For example, the company created stickers that say "Made in Israel by Arabs and Jews working side by side in peace and harmony", and although it was anticipated that this might be controversial to the point of affecting business, the CEO and board stuck with it because it is part of a greater cause of co-existence, and this sense of business courage has become part of the company's identity of diversity and inclusion. Another example is the company's dedication to fighting pollution from plastics, organizing a special clean-up project in Honduras.
At SodaStream, Marketing and HR work together to cultivate the employer brand. A great example of this is the companies hugely popular videos, including their famous Join the Revolution recruitment video, and the tear-jerker Island of Peace video, which has racked up almost 3 million views (as of April 2019).

Galit presenting her lecture on how SodaStream approach Employer Branding

HIGHLIGHTS FROM MICHAL NACHMANY'S LECTURE
(VP HR @ PLAYBUZZ):

Employer Branding at Playbuzz is designed to enhance employee engagement, attract new talent and support brand exposure. Marketing and HR work together to ensure that employer branding is part of the team's mindset (needs to be top-of-mind in everything they do).
Some of the values that are important for Playbuzz to promote include the fact that they are a Tech company (as opposed to 'just' a company that enables production of playful content), their commitment to increasing the diversity of their team (hiring more women, people who are older, i.e. not just millennials, etc.), their contribution to the community through supporting causes, fostering a fun and cool work environment, and transparency with employees.
Part of nurturing the employer brand involves gaining exposure for the company through participation in conferences (as speakers, not just attendees), using social media to promote the company's swag (e.g. employee contest to see who can photograph themselves using/wearing swag in the most creative way), and organizing 24-hour team hackathons (across the company's offices globally) to further the company's interests by creating new products,
Playbuzz engage in a variety of activities designed to strengthen the employer brand which are both outbound (e.g. internships, meetups, celebrating company 'wins' using PR, etc.) and internal (e.g. their onboarding process, enhancing a sense of belonging and pride, celebrating employee milestones and achievements, holding "Ask Me Anything" sessions with the CEO/founders of the company, etc.)

Michal presenting her lecture on how Playbuzz approach Employer Branding

HIGHLIGHTS FROM NOA FERBER'S LECTURE
(EMEA TALENT ACQUISITION MANAGER @ AMDOCS):

Given that Amdocs – a publicly traded company (NASDAQ: DOX) – has over 10,000 employees spread across over 25 countries, Employer Branding holds unique challenges, namely the need to adapt the employer brand to appeal to both current and potential employees in different parts of the world. What might work here in Israel, for example, may not be effective in certain European, African or Middle Eastern countries. In each geographical location, the HR lead needs to have their finger on the pulse of what works locally and adapt the company's employer brand activities accordingly to further the interests of the company as a whole.
At Amdocs, one of the main drivers of their EVP (Employer Value Proposition) is "Localize and Personalize – and this applies to everything from researching the local ecosystem to develop a recruiting culture, identifying the right marketing channels for each location, developing brand messaging and marketing materials, training managers to be effective recruiters themselves by becoming "talent magnets", etc.
Noa talked about the importance of employer branding in contributing to the concept of "The Informed Candidate". Job hunting is similar to shopping – only instead of shopping for a product, you're shopping for a job – but the process of choosing which company you might want to work for is similar to any other purchasing decision. Without the presence of an effective employer brand, a candidate lacks the information necessary to make that 'purchasing decision' in relation to applying for a job at that company.
"Employer branding is a marathon, not a sprint." Holding a meetup or conference, for example, should not be judged by how many people applied for a job as a result of that single event, because a potential candidate's journey can include anywhere between 12-18 points of contact with the organization before they decide to apply. The ROI of employer brand initiatives is the cumulative result of a long-term investment in those initiatives and cannot always be judged based on a single point of contact or activity.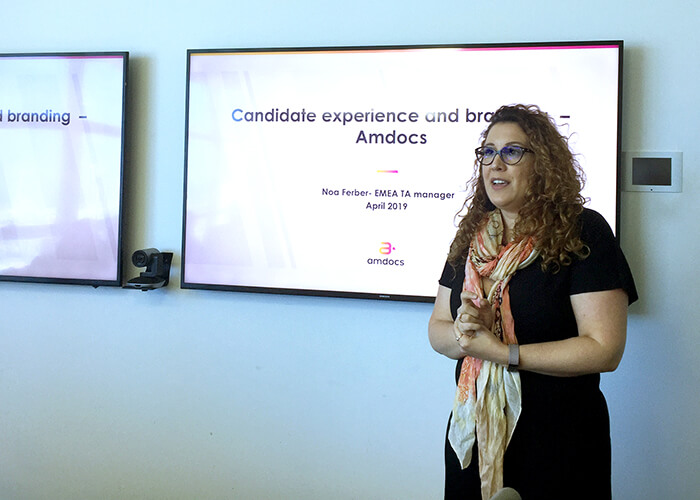 Noa presenting her lecture on how Amdocs approach Employer Branding