As the dust settles on crisis management, we have more energy to devote to thinking about what society, technology, and life will look like in the post-COVID world.
We believe that there are several new realities we will need to get used to following COVID-19 that will stay with us for the next 1-2 years, after which we will have enough time to re-assess and adjust as necessary. Here are the three major reality shifts:
1) Travel restrictions
Though travel will not be completely impossible, it will almost certainly become more difficult and unpleasant. This means that it will take a very long time before people can travel for business at the same frequency they used to before the crisis.
2) Work from the office constraints
We already understand that the new normal will be very different from the old normal, and although people may be allowed to return to the office in full capacity within the next few weeks or months, this will be under a completely new set of behavioral constraints, social distancing, hygienic regulations, etc.
3) Demand uncertainty
As the economic market tries to recover from the shock created by the COVID-19 virus, we will see weakened activity from the majority of customers, prolonged sale cycles, and hesitation before making significant new IT investments.
These 3 reality shifts are forcing us to re-evaluate the validity of old operational models companies have employed over the past few years to build value. Some of these models are simply going to be impossible to implement from a practical standpoint.
For these reasons, we will attempt to analyze how the major societal changes mentioned above will affect each company function, in order to provide a new set of relevant best practices for companies operating out of Israel. We will call this the post-COVID operational model.
Let's take a brief look at the possible effects COVID-19 will have on each company department. In later posts, we will expand on these ideas, give examples, and take a closer look at what you can do to come out ahead.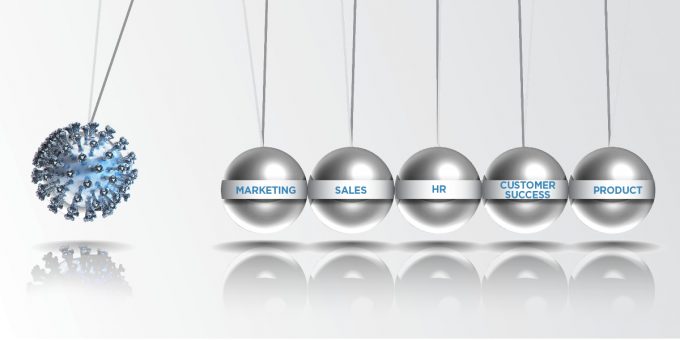 Sales
For early stage companies that have not yet built their US-based sales force, the option of adopting a field-sales go-to-market approach will become virtually impossible for the next year or two. Interviewing candidates, hiring executives, training sales forces, and receiving back-office support, all without the ability to have uninterrupted business travel, will significantly slow the ability to execute this go to market.
On the other hand, companies with an inside sales model that can build and scale this operation out of Israel may gain an operational advantage that could change the Israeli tech industry forever.
Marketing
At least for B2B companies, physical conferences comprise roughly 40% of marketing budgets. Well, not anymore. Conferences will likely decrease in frequency and attendance. These conferences, alongside other physical marketing material (swag, giveaways, etc.) will have to be replaced with a completely new set of marketing activities, such as virtual conferences and other online-based events.
This new set of online marketing activities will have to compensate for the loss of this number-1 item in most companies' marketing plans. This is true for both lead generation and brand activities, and just moving to paid online campaigns will not be enough to cover the breadth of the lost marketing due to the physical constraints barring face-to-face meetings with prospective customers.
Human Resources
A lot has been said, and a lot will be said, about the positive and negative effects of prolonged WFH time. It seems, though, that companies cannot completely ignore some of the benefits that were achieved by this work method.
It will take some time before companies and employees find the right balance between working from the office and working from home, but we think it is safe to say that the new WFH equilibrium will be very different from the one we knew pre-COVID.
This will force companies to rethink issues such as company culture and events, productivity measurement tools, employee onboarding and training, and even the physical layout of the office.
Customer success
With uncertainty in demand for new projects and prolonged sales cycles, the responsibility of maintaining companies' financial health will fall mostly on the shoulders of customer care people. Maintaining the existing customer base will become the most important KPI in companies' ability to successfully navigate to the other side of the crisis.
This requires heavy involvement of top management in being creative to support existing customers during their tough period. Pricing adjustments, additional product capabilities, dashboards and visibility, and other features will be crucial for maintaining the install base and will create a deeper sense of partnership between vendor and customer. Better forecasting and analytics will be required in order to provide management a clear picture of the status of the install base.
Product management
Product management will have a primary role to compensate for the operational difficulties listed above. Products will have to include better expansion and virality features that will enable product-led growth. Reduced friction with a customer through better installability, self-configuration, self-diagnostics, etc. will have to be inserted into the products to support the low-touch sales and marketing model that will be required.
Our Post-COVID Operational Model
As can be seen from the above, society has undergone very deep and profound changes that will touch every point of a company, and these changes will last at least for the next year or two. But while they do pose a short-term operational risk, they can be mitigated by changes in companies' operational model. The companies that successfully do so will emerge from the crisis better equipped and with the right mindset to resume growth expansion and value creation.
Over the next few weeks will try to analyze each one of the components listed above and ask industry leaders to share from their experience on how to make this shift. Interesting times ahead. Stay tuned…