Looking to make your recruiting process more efficient?
Viola's 2019 Benchmarks & Insights on attracting talent to Israeli and US startups
We've discussed the importance of employer branding before, and we can't enough stress how vital it is, considering that competition over talent is getting fiercer every day. It starts as early as the job interview stage, because if you consider that candidates are most likely interviewing at several different companies simultaneously, you are essentially competing against those other companies and must therefore aim to brand your company better than they have.
43% of Israeli companies suffer from a shortage of more than 10% of their required workforce. Meaning, almost half of the companies are constantly working in a 90% workforce capacity and are perpetually on the lookout for talent.
With headcount still being the biggest challenge for tech companies, we set out on a mission to provide some benchmarks on recruiting for tech companies, with the help of the HR leads of Viola's companies, ranging from small companies to ones with hundreds of employees.
Here are 6 insights you should consider in your recruiting methods, based on our benchmark results:
1. These days, job interviews are no longer one sided because the assessment of suitability for a job is mutual: Just as you assess the candidate's suitability for the position, they too are assessing whether or not they want to work for your company. Some of the metrics that job candidates asses include how the company operates on a daily basis with respect to its employees, the level of transparency and how efficient the processes is.
2. Processes – During the interview process candidates are usually nervous, stressed and do their best to prepare – often while still working at a full-time job. The average time to hire in Israel stands between 6-8 weeks (see slide below). With each stage of the interview, they eagerly await updates from the employer with regards to the status of their application. This wait can be very nerve wracking, so it's important that the interview process is swift and efficient and keeps candidates in the loop.
3. Communication – recruiting processes can vary – Our survey shows that 55% of the companies hold a 4-step processes that includes a preliminary interview with a relevant team member, a second interview with a senior team member, an interview with someone in HR, and a test/assignment if relevant. And of course, references must also be checked. 25% even have a 5-8 step process. It's therefore important to communicate with candidates and outline the process and time frames clearly at the outset in order to manage expectations respectfully, especially for interview processes that typically take a long time.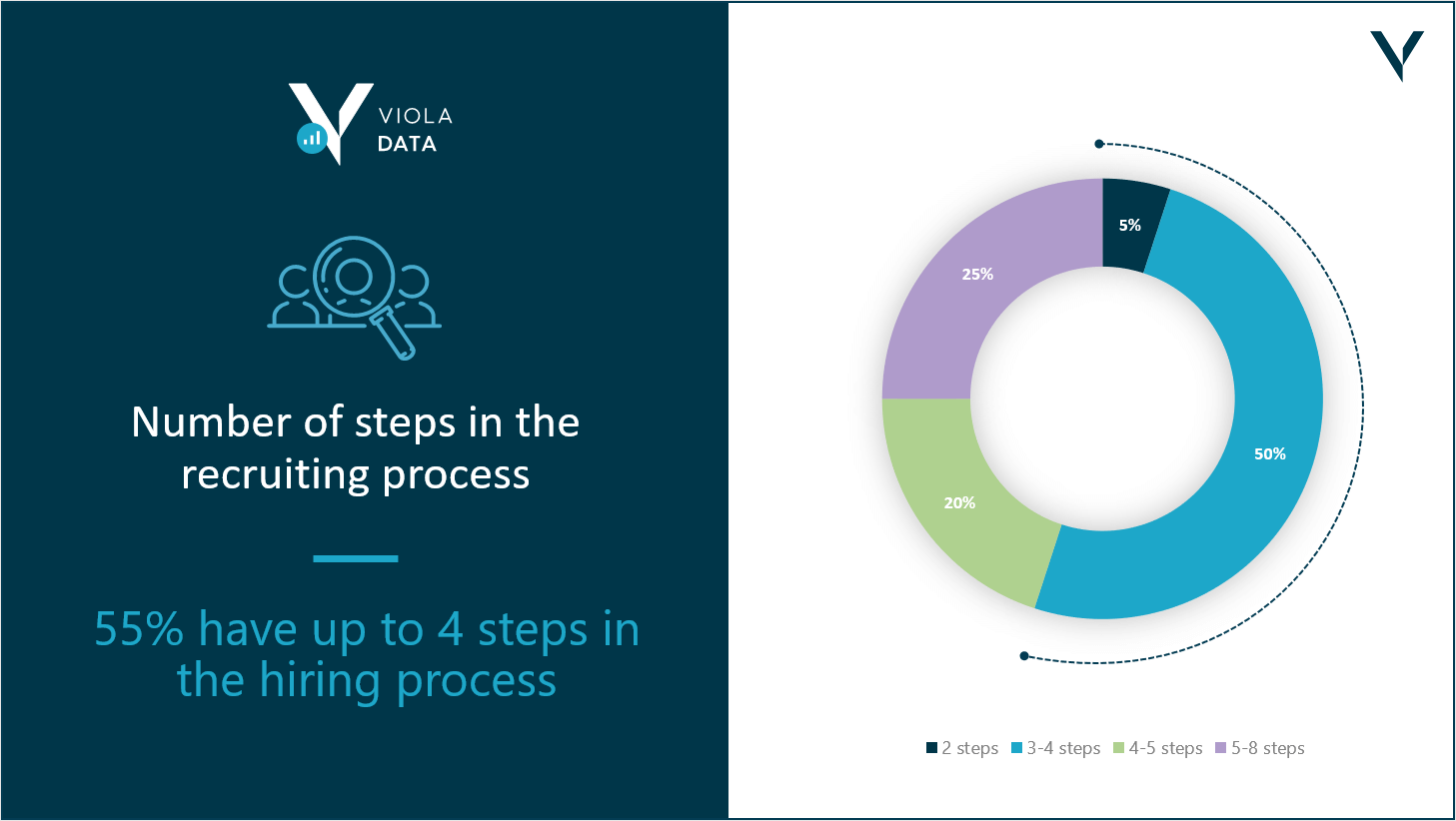 4. It is best to schedule all the interviews within as short a time frame as possible to avoid long gaps/waits in between. It's important to get back to the candidate after each stage to update them about what and when the next stage will be.
5. Even when you reject candidates for a particular role, it's important to remember that they can still become advocates for your company based on the interaction they experienced with you during the interview process. To ensure they spread positive and not negative accounts of your company, it is in your best interest to make the best possible impression.
6. One of the most successful methods of recruitment is referrals from friends. From an employer perspective – this means that your employees are basically conducting the first screening of the candidates since naturally they will recommend friends or people they had good working relationships with in the past and believe would fit right into the company's DNA. 90% of the companies we surveyed had a friend referral recruitment program, with an average compensation of 4,900 NIS in Israel and $2,100 in the US, with 47% of them stating it is their most effective source of new hires.
With all that said here, it's important to remember that retaining talent is much more cost effective than hiring. The BIG expense for startups are the costs to replace employees, or what we call the "employee churn", sometimes adding up to tens of thousands of dollars.
With a 17% turnover rate in Israeli tech companies, it is becoming more and more important to put effort into employer branding, which not only helps to retain existing employees but also to attract candidates being "fought over" (by sometimes too many) sources in the ecosystem. This takes collaboration among departments (HR, marketing and even operations).
In our next post we'll discuss How to calculate cost of turnover and what metrics we can use to track employee churn.
Have any comments? Please share them with me: timors@viola-group.com
Click photo for the full report: