Shaul Olmert, Co-founder & CEO at PlayBuzz
Age: 44 (you know, the new 30)
Lives in: New York
Significant others: Married + 3
Company's main offices: New York, London, Hamburg and Tel Aviv
What does your company do and why is it unique?
Playbuzz is a free online content platform that empowers publishers, marketers, bloggers and brands to easily create, embed and distribute interactive content in formats that are optimized for audience engagement and social sharing.
Our uniqueness stems from our focus on developing the newest and hottest interactive media formats in order for storytellers to package content that's tailored for the way digital audiences discover and consume media today.
We provide powerful tools for interactive storytelling so that digital publishers can focus on and utilize their editorial expertise when creating and embedding the content on their website, social media page or mobile app. This combination is what propelled the items created on Playbuzz and showcased on Playbuzz.com to become the most-shared content on Facebook.
What are you most proud of in your company?
At PlayBuzz we communicate through playful content and use visually engaging messages that minimize text but convey ideas and points in clear, creative ways. This has become a value that many live by, practice and follow.
Who inspires you/who do you admire and why?

Leonardo da Vinci – for not limiting himself to one discipline and for becoming my daughter's favorite Teenage Mutant Ninja Turtle.

Homer Simpson: A man who never lets go of his goals, even if he has no idea what they are.
Which other companies do you admire?
YouTube, Snapchat, 90min
What do you do for fun?

Biking

Working out

Reading
iPhone or Android? Android
Favorite Food: Peanut Butter
Favorite TV Show: The Simpsons
Favorite technological gadgets/apps right now:
Selfie toaster and Blaze (for bicycle)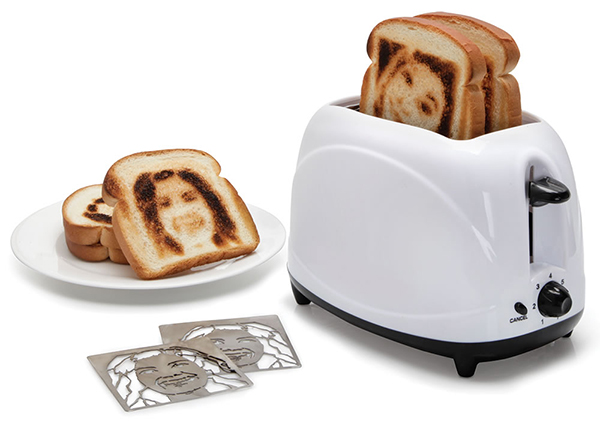 Selfie toaster (EDITOR'S NOTE: OMG! Hilarious)

Favorite go-to websites/blogs for news on your industry/technology:
Re/code & Geektime
The best business advice you ever received:
1) "Don't waste energy on listening to other people's advice"
2) From Atreyu's final quest in "The Neverending Story" which is basically to "do what your heart says". Obviously it wasn't meant in a business context in the movie, but that was the best business advice for me.
What do you think would really surprise people to learn about you?

I started my career as a high school teacher

I'm a huge fan of the Boston Red Sox (baseball) as well as the New England Patriots (football) – and believe it or not, my daughters are now becoming fans too.

I speak fluent Yiddish!
Read more insights from Shaul on PlayBuzz'z meteoric growth, how he met co-founder Tom Pachys, and why Playful Content is so incredibly viral >