Alon Weinberg is a Director at Dell Technologies Capital and was also formerly a Principal at Viola Ventures. This post was written during his tenure at Viola (2015-2017).
Subscription business models have been around for a while, but recently they've been enjoying renewed popularity with many companies seeing it as the Holy Grail of monetization. But just because it's popular, it doesn't mean that it's right for every type of business. In fact, choosing a subscription-based model when it's not the right fit for your business can mean the difference between success and failure, which is why it's so important for startups that are either deciding on a monetization model or considering adding subscription as an option, to understand the characteristics that make for a successful subscription-based business in the first place.
There are so many examples of companies for which a subscription model has been such a raging success, it's no wonder that entrepreneurs who are eager to follow suit have been ogling it as their business model of choice, sometimes even forcing it to fit their startups despite lacking the ideal foundations for a successful subscription-based business.
Some of the companies for which subscriptions have worked really well include services like Spotify, Rdio, Xbox Music and now Apple Music – which are shaping the subscription based economy in the music industry. Successful subscription businesses are growing in almost every vertical (Netflix, GameFly, Zipcar, SkillShare, etc.) and a variety of 'Out of the Box' subscription services are gaining momentum too, including companies like BirchBox (beauty), BarkBox (dog treats), Standard Cocoa (craft chocolate), NatureBox (health snacks), MeUndies (underwear), Dollar Shave Club (shaving gear), Mantry (artisan food), SparkBox Toys (educational toys), etc. The Honest Company, which targets a much larger segment of consumers (young mothers), is valued at over $1 billion while Amazon Prime which targets the mass market is a staggering success with about 40 million subscribers in the US.
Why are subscription-based business models so appealing?
When your business is based on subscriptions, your subscriber base becomes your greatest asset, allowing you to improve your ability to predict revenue through recurring sales and therefore improve overall planning. The more you nurture your subscribers and develop intimate relationships with them, the more data and insights you gain, allowing you to continuously improve your product, personalize your service, up-sell and cross sell (or in more unethical cases, exploit your subscriber base for your own gain).
A well implemented subscription business can be highly effective because it aligns business interests with consumer interests and eventually achieves a lower cost of acquisition to lifetime value rate both for the business (mainly in in terms of monetary value) and for the subscriber (mainly in terms of convenience). It also poses a great exit strategy for investors because you're not only selling a more predictable business, you're also selling a subscriber base, which is an asset in itself.
Popular verticals for software solutions in Consumer Saas
SaaS is already a prevalent and proven business model for B2B companies, but it's not always an obvious choice when it comes to B2C businesses. Only a tiny fraction of apps in the Apple and Google stores, for example, are based on a subscription business model.
As a business model, Subscription is a natural choice for premium content and entertainment companies, so for software companies, adding content as part of their offering is a clever move for Consumer SaaS. For example video editor tools such as Magisto offer content as part of their editing solution; Cloud services (e.g. Dropbox Pro), Apps for Pros (e.g. Adobe Lightroom), communities (e.g. LinkedIn) are also well-positioned to offer Consumer SaaS.

Consumer SaaS Verticals
Other emerging verticals for which subscription models could be a good fit include productivity and hobbies. Strava, for example, targets both hobbyists and a community of runners and cyclists. Evernote offers a productivity tool via a Freemium model and generates over 60% of its revenues from premium subscribers. It will be interesting to see what approach Microsoft will take in coming years too. Office365 is already a consumer SaaS but there is speculation around Windows 10 (for which the future business is still unclear) and the possible bundle that comes with it.
There are some great resources around for learning about the implementation of subscription-based business models (e.g. Zuora, Automatic Consumer), but it's also important to understand what makes a subscription business model relevant to a consumer business in the first place, including software companies.
So what characteristics should a software solution have for it to be a good fit for Consumer SaaS?
1. An invaluable service. It's easier to charge a subscription fee for a Service, mainly due to consumer perception and psychology (i.e. it makes sense to continue paying for something if you can benefit from it on an ongoing basis). For software companies this means providing things like data storage on the Cloud, availability across consumer devices (and synchronization), content and a high refresh rate of functionality and/or information. IoT services have an extra advantage, since a piece of hardware usually makes the proposition even more tangible.
2. Recurring Value. When a product or service fulfills an ongoing need for the end users (e.g. amateur photographers, gamers, mothers, dog lovers, etc.), a well-built service with a recurring value provides convenience, consistency and reliability for the consumer who relies on that product or service to address an important aspect of the individual life. Sometime part of the value of the app is a sense of community and a feeling of belonging.
3. A complete experience, where the individual receives a complete solution with no need to purchase additional applications or services in order to fulfill the specific recurring value. Sometimes this can be achieved using bundles.
4. High-end perception is critical for customer acquisition and retention and in many cases it's essential in order to compete with other alternatives that are either free or require less commitment.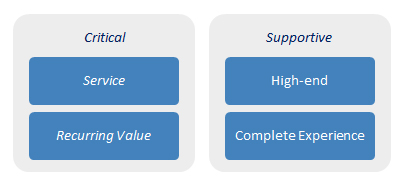 Consumer SaaS Characteristics
It's true that many software businesses monetize using several different business models simultaneously (ads, pay-per-usage, in-app purchase, subscription, etc.) and that may be the right solution for them. However, software businesses that are not the right fit for Consumer SaaS tend to struggle with subscription models, to the extent they are forced to use it to address bargain hunters and risk cannibalization of their earnings.
Deciding to implement a subscription business model is much more than a question of pricing optimization. It's critical to understand – before you even decide on a business model – whether your core offering (including elements that your solution might be lacking) has the right characteristics to become a successful and enduring Consumer SaaS business.